Alive and not kicking – an introduction
It is the story of over ten years of living with an acquired disability.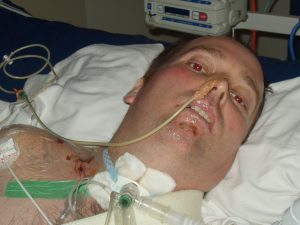 John took a day off work from SA Police, to support his two children taking part in a sports day at Cedar College Northgate. A tree fell on him, narrowly missing his father and son.
John's spine was severed at the T3/T4 level, causing paralysis from the chest down. Other injuries included concussion; head laceration; broken collarbone, leg and ankle; cracked ribs and sternum; a neck fracture; and bruising to the face and heart.
John was not expected to survive.
He questioned his Faith as God appeared to be distant. Besides, if God could create the universe in six days, he could have prevented the tree from falling.
After 30 days in ICU, and a few weeks in a spinal unit, then a transfer to Hampstead Rehabilitation Hospital. The rehab was progressing well for eleven months until one morning. John woke up in agony.
His spine developed a condition known as Syringomyelia, which causes pain, and the pain remains with John. The return home to family occurred after 487 days in the hospital.
Relationship Issues
Bad things came in three for John, and his wife left the family during March 2012. He discovered that a nurse commenced a relationship with his wife, while John was still in the hospital.
His mental health declined, and while preparing to harm himself, an unexpected visitor arrived. A short stay in mental health care followed, and John heard a voice say 'You do not belong here'. He was discharged shortly after this and returned home to care for his two children.
John's mental health improved, and a new relationship commenced, which added quite a twist to his story. His new partner's ex-husband was the nurse, and therefore, a strange wife swap occurred!
As the nurse was violating his code of conduct, John spoke to various mental health professionals, and they advised him to report the nurse to the authorities. AHPRA suspended the nurse's registration for two years and suggested he should not re-apply. There was a 'grave departure' from professional standards and cancellation of the nurse's registration would send a stern warning to other health workers.
John created the site TransformingHealthSA.com to share details of this challenging experience.
Relationship with Cedar College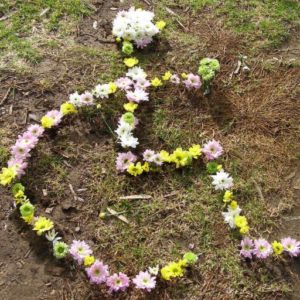 John's story is also about his relationship with Cedar College, which was difficult due to the circumstances. He is still waiting for someone from the school to visit him. John shares his relationship with the school on his blog WheelchairJohn.com.
He is glad that both of his children were able to complete their education at Cedar College. They completed their SACE, as well as Jasmine performing the role of School Prefect, and Ben achieving the school dux award in year 12.
Life goes on
John is an advocate for others with disabilities and attempts to improve accessibility for people in wheelchairs. He was a member of the political party, Dignity Party, and was a candidate in the 2018 South Australian election.
Later, John reflected on life and realised that God was helping him when he thought God was absent. He believes God spoke to him in the hospital, as well as sending the visitor to intervene. Was it just co-incidences? Please read the book in 2021.
There is so much more to share. John will publish 'Alive and not Kicking' later in 2021 or early in 2022.
Contact John
Email John by clicking here.
News article of the accident